Ferrari's First GP Win
British Grand Prix 1951
They called him EI Cabezon, or Fat Head. Enzo Ferrari himself wondered in amazement at his abilities behind the wheel in spite of his physical bulk. And the thousands of English motorsport fans who turned up to witness Jose Froilan Gonzalez clinch Scuderia Ferrari's first ever Grand Prix victory in 1951 at Silverstone affectionately nicknamed him The Pampas Bull.
Yet no matter what conclusions you might draw from the Argentinian's heavyweight frame, there was no doubting his deft touch behind the wheel. At Silverstone, Gonzalez outpaced the legendary Juan Manuel Fangio in his Alfa Romeo 158, firmly signalling the end of Alfa's five-year reign in Grand Prix racing. Gonzalez's hardware was Ferrari's Type 375, a front-engined 4.5-litre V12 monster which, like all GP racers of the day, called for serious manhandling to get the best from it. However, the brood shouldered Gonzalez a keen and capable sportsman from his youth, despite his notable girth even then - was the man for the job. Heaving over through the corners, head and shoulders hanging out and arms flailing at the wheel, his aggressive driving style saw him go from pole position to first past the chequered flog, and the fledgling Ferrari's reputation went from strength to strength.
Ferrari started competing in Formula One at the first round of the World Championship in 1950, three years after the company built its first road car. Enzo Ferrari's past experience of leading Alfa Romeo's racing team showed and as for Gonzalez, the big man's 1952 season with Maserati was curtailed by a big crash. Further seasons with Maserati and Ferrari again followed, before Gonzalez retired from Formula One after his home race the 1960 Argentinian Grand Prix.
Author: ArchitectPage
FORMULA ONE RACES OF THE 50'S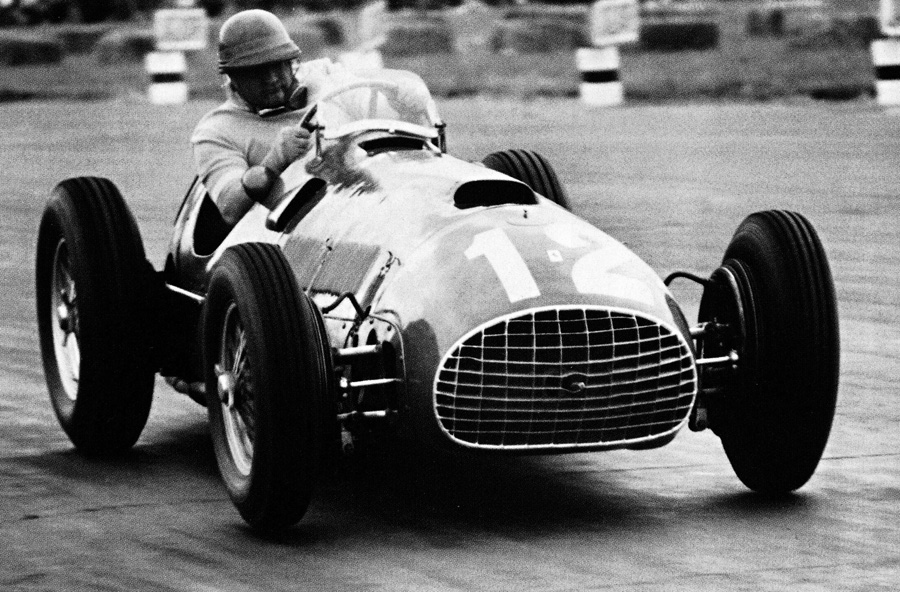 Ferrari 4.5 Litre F1 Type 375